Saturday October 10
10:00 AM - 1:00 PM: Free Classes
(donations to Branching Out welcome)
Let Your Yoga Dance, Hula Hooping, Laughter Yoga
Reserve your space in these free classes. Learn more here.
7:00 - 9:00 PM: Music Performance
Highly Acclaimed Musicians Lisa Ferraro & Erika Luckett
Powerful Vocals. Acclaimed Songwriting. Deep Grooves.
This is a rare up close and personal event.
To book your tickets to this event, click here.
Sunday October 11
10:00 AM - 3:00 PM: Marketplace
Our Popular Juried Artisan Market & Youth Artist Entrepreneurs, Specialty Food Vendors & Free massage, Acupuncture, Reiki
To learn more about our Artisan Market & Youth Artist Entrepreneurs, click here.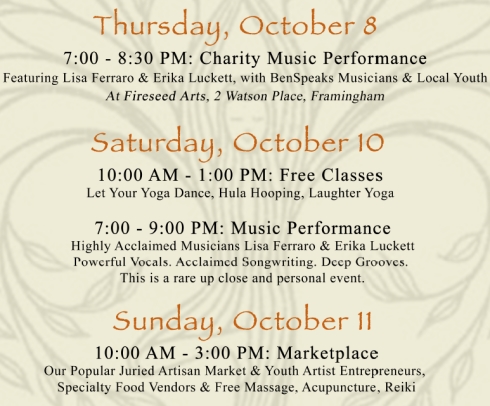 Proceeds from the charity portions of this Fest will benefit
Roots & Wings Branching Out, our nonprofit whose goal is to educate and increase awareness of holistic approaches to well-being and create ease of access to these services, especially for youth, in Natick and the Metrowest area.